As the Holidays approach, many businesses will close, and employees may be away for an extended period of time. Unfortunately, the holidays have proven to be an opportunistic time for burglars. To keep your business safe and secure during the holiday season, follow these 12 security tips.
1. Test your security equipment.
If your business will be closed for an extended period of time or will have different operating hours during the holiday season, be sure to test your security cameras, fire alarms, access control system and more, so you know they're working properly.
Try to do this at the beginning of the holiday season, so that you allow for ample time to make any needed adjustments or repairs. Also, make sure your monitoring provider is aware of your holiday hours and has an updated call list, in the event that any alarms go off in your absence.
2. Pay attention to how you dispose of trash.
Don't just throw the boxes and shipping labels in your dumpster. Many of these boxes are marked with the original contents, which can be like an advertisement to burglars, letting them know what you may have inside. Remove all shipping and contents labels, then cut the boxes and put them in trash bags before placing them in the dumpster; an ounce of prevention.
3. Ensure decorations don't obstruct security systems.
If you put up decorations for the holidays, make sure your decorations aren't obstructing security cameras, including outside where the wind could cause them to move and cover the cameras. Keep hanging decorations away from the motion detectors. Make sure that large decorations outside don't create a hiding spot for intruders.
4. Conduct background checks on seasonal employees.
When hiring seasonal employees, do a thorough background check and provide them with the training to do their job well, but don't offer insights or access that will tempt them to steal. Remember to disable the passcodes given to them once they're gone.
5. Check more than the holiday lights.
The inside and outside of your business should be well illuminated. Consider timers that turn inside lights on and off at random – instead of scheduled intervals. This will give the appearance that people are inside even when you're closed.
6. Be aware of what can be seen through the windows.
Don't show too much merchandise, equipment or other high-value items near the windows of your business. This not only tempts any would-be thieves but can also make it easier for them to do a smash-and-grab.
7. Secure your critical business servers.
Merchandise can be replaced, insurance can cover damages. Data loss can be a major business interruption and security breach. Now is the time to have your business critical computers secured digitally and physically.
We're here to help. Give us a call.
You may also be interested in…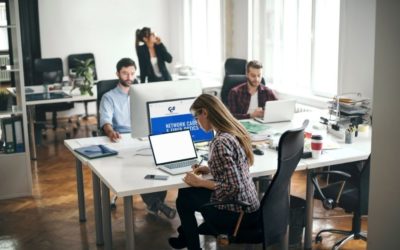 A cloud phone (cloud-based phone system) is a phone service that enables calls over the internet, replacing the traditional use of fiber optic or copper wires for connections. Cloud phones are...