A cloud phone (cloud-based phone system) is a phone service that enables calls over the internet rather than a traditional phone which uses fiber optic or copper wires to make the connection. Cloud phones are hosted in one or more offsite secure data centers.
The adoption of cloud phone systems has been fast tracked in the past few years to accommodate the emergence of remote workforces and the need to streamline software solutions by ridding businesses of on-site hardware.
Cloud phones advantages:
Scalability to accommodate growth
Elimination of on-site hardware and maintenance
Increased team responsiveness, productivity, and efficiency
Integration of third-party software
easy integration into existing phone lines
We've learned that it's possible for the entire world to change overnight and those circumstances can heavily influence the rapid development of communications and the way business is conducted. Once a business grows beyond a team of one, decentralization brings flexibility, scalability, and enhances team collaboration.
How do cloud phone systems streamline communications?
BEFORE:
When you have your phone system on-site, it will be powered by servers that are usually crammed into a temperature controlled telecom closet. Your monthly invoices vary depending on your agreement. The hardware requires maintenance, upgrades, and replacement costs.
AFTER:
When you have a cloud phone system, you only pay a monthly subscription which provides you with access to an off-site system. Your subscription fee depends on how many devices or "seats" that you have in use at a given time. For the most part, these are all-inclusive fees, which means there are no extra fees for usage or for voice features, which allows you to have predictable costs every month.
As your business grows, a cloud-based phone can save you significant money. The PBX is maintained by your provider, who also handles updates and maintenance. The only on-site hardware you will have to install for a cloud system is a power-over-ethernet switch, a firewall, and cloud-compatible telephones.
Expandability is super easy and cheap.
You can even keep your business's traditional phone configuration and install a VoIP adaptor. With an adaptor, you can use a regular landline phone to make calls over the internet. The adaptors plug into a phone socket in the wall or directly into your router.
However, if you're looking to upgrade, there are lots of options for cloud-based phone systems. Read more here: How to Find the Best Cloud-Based Phone System for Your Business
As you know, cloud based systems have proven extremely reliable. If you do have a problem, tech support can address it remotely with minimal downtime. (We also provide IT services.)
Cloud phone systems provide the latest features
A cloud system is provided via an Internet connection, so all the features it encompasses are delivered on a virtual basis. This is useful because the voice features you need are not limited to the number of ports available in your office system or the type of server you have installed. When you have a cloud phone system installed, you can set up as many conference bridges, voice mailboxes, and extensions as your business requires.
Whenever new features become available, you won't have to swap out the whole system for a newer one, because all those upgrades will be handled by your provider. Here are some of the most beneficial features you can take advantage of with a cloud-based system:
video conferencing and multi-party calls
hold messages and hold music
forwarding voicemail messages to email
intelligent call forwarding
interactive audio menus serving as auto attendants.
Find answers to any additional questions you may have about switching your business to VoIP, here. 
Embracing today's technology checks all of the right boxes for business; reliability, expansion, team collaboration, and stable costs.
Here at Custom Cabling Services, we can answer questions and provide a detailed estimate to bring your business up to speed.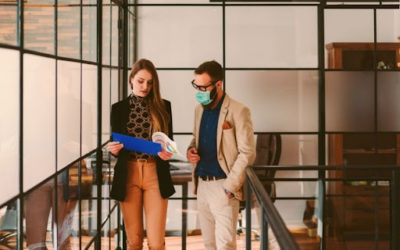 COVID-19 has changed the way businesses operate. Many positions have now been decentralized to...
read more