Today's electronic locks meet your need for monitoring time schedules, audit trails, and knowledge of who has entered or exited your property. Our selection of access control systems can be customized to provide multiple access codes as well as dedicated time zones. Once wired to your network, these controls compile data reports for review/archive.
How do access control systems work?
Access control systems manage access by verifying user credentials through methods like key cards, PIN codes, or biometric scans. Once authenticated, the system grants or denies access based on predefined permissions. Access control maintains an audit trail of access events, integrates with other security systems, and allows remote management through cloud-based solutions, enhancing overall security and control over physical spaces and resources.
Electronic Locks & Access Controls Systems
There are 4 ways in which you typically access control to doors or gates:
 What you have; a key, a credential or card, or a fob
 What you know; a combination
 Who you are; biometrics, fingerprint, vein patterns, or hand readers
 A combination of the above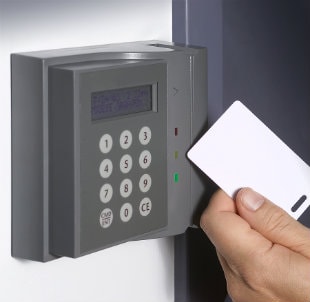 Options for Door Access
Electrified mechanical locks that replace existing locks
Battery powered locks
Electric strikes that replace the door latch keeper with one that can be controlled electrically
Electromagnets
Electronic cylinder replacements
Electrically controlled doors
Documentation of activity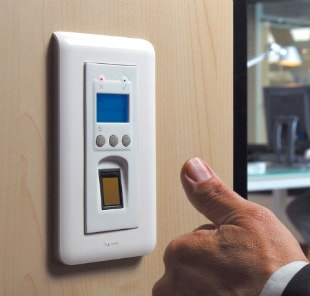 How can my business benefit from a keyless access control system?
Keyless Entry – No need to change locks, make or replace keys
Time-Controlled Access  – All devices can be programmed by time-of-day, day-of-week, "per entry" and "per employee" basis.
Audit-Trail Reporting – Know who goes where and at what time – all the time!
Time & Attendance Reporting – Paperless time cards with break and lunch verification.
Alarm Notification – Produce email alerts and phone/camera system responses to entry breaches.
Dual Authentication – Require 2 access methods for entry to sensitive areas.
Anti-Pass Back – If someone does not enter legally, the same person is unable to exit. No Tailgating!
Telephone System Control/Monitoring – Link 2-way intercom & door control to your phone handsets
Overall, access control systems provide a secure, convenient, and efficient way to manage access to physical spaces, assets, and information, offering numerous benefits for businesses and individuals alike.